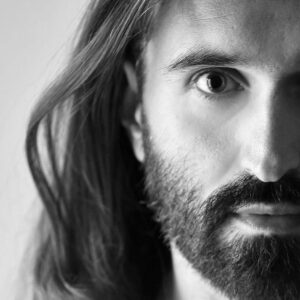 ---
Books & Rights Information
Luslu
– Novel, French, 2023 – To be Published –
---
Biography
(Version en Français : ICI)
Pierre Pascual is a writer and visual artist.
Founder of Éditions Le Sélénite, he published in 2019 the first novel by Claudius Pan Carpe Noctem (2020 gay novel prize).
Since 2021, he has been pursuing his publishing activities in Rabat, notably with the publication of the collection L'amour fait loi, very first book to deal with the LGBTQI+ issue in Morocco (with contributions by Leila Slimani & Sonia Terrab, Abdellah Taïa, Zainab Fasiki…).
As an author he published in 2016 his debut novel Rose Turningham he then adapted for the cinema for the film "Hunter Nights" (in post-production).