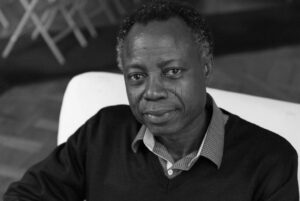 © Francesca Mantovani

---
Rights Information
(version en français ici)

La couleur de l'écrivain
– Non-Fiction, 2022 (Editions Continents, La Cheminante 2014 ("Harlem Renaissance" serie) for the French original)
Filles de Mexico
– Novel, French, 2008 (Mercure de France) –
Le paradis des chiots
– Novel, 2006 (Mercure de France) –
---
Biography

Sami Tchak, pen name of Sadamba Tcha-Koura, is a writer born in Togo in 1960.
After obtaining a degree in philosophy from the University of Lomé, the capital of his country, in 1983, he taught in a high school for three years. He arrived in France in 1986 for sociology studies. He obtained his PhD in this subject at the Sorbonne (Paris V) in 1993.
As part of his activities as a sociologist, he went to Cuba in 1996 for seven months of research on prostitution in Cuba. He wrote La Prostitution à Cuba, prefaced by the Cuban writer Eduardo Manet. Participating in the Mantua literary festival (Italy) in 2008, Sami Tchak himself declared that the discovery of Cuba and Mexico in the late 1990s, and later of Colombia in the 2000s, influenced his literary choices. These countries, but also and above all the great writers of all of Latin America, he also affirmed, opened up new horizons for him.
His second novel, Place des Fêtes, was published in 2001. Alain Mabanckou judged that this novel is "the most iconoclastic of contemporary sub-Saharan literature."
Between 2003 and 2008, he published four novels, Hermina, 2003, La fête des masques, 2004 (Gallimard editions), Le paradis des chiots, 2006, and Filles de Mexico, 2008 (Mercure de France), which evoke Cuba, Mexico, and Colombia.
But since 2011, the author has turned to his continent of origin, Africa, with his novels Al Capone le Malien (whose intrigues take place in Cameroon, Guinea, and Mali) and L'Ethnologue et le sage (which takes place in a small village in Togo), and then, from 2014, published more personal texts (La couleur de l'écrivain, Ainsi parlait mon père, Les fables du moineau…).
In 2004, he received the Grand Prix littéraire d'Afrique noire for his novel La fête des masques.
La couleur de l'écrivain received the Prix Julien Green "Of the Traveler on the earth" in 2023.
Many of his books have been translated into Italian, Spanish, and German.