_________________________________________________
Spring is a beautiful time for Ægitna: we are honored to accompany the great Sami Tchak and his masterful work La couleur de l'écrivain ("The Color of the Writer"), which has just received the Prix mention spéciale Voyageur sur la terre ("Traveler on the Earth") from the Association of French Language Writers (Adelf). La couleur de l'écrivain, originally published by La cheminante in 2014 (in the "Harlem Renaissance" serie), is now carried by Editions Continents in the "Fil Bleu" serie, and we salute this well-deserved success. Hat off to his publisher Editions Continents as well.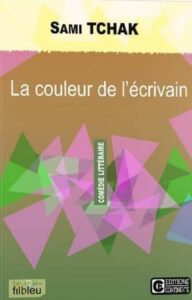 La couleur de l'écrivain is a unique work and a true library of Babel. Through an intellectual and intimate journey on the labels that are placed on writers (especially African) and their situation/positioning in world literature, the author offers us a dialogue about the place of a "world" imaginary in a universe where authors are systematically referred to by their skin color or geographic origin. Full of humor, meaningful anecdotes & fascinating references, La couleur de l'écrivain is also a declaration of love from Sami Tchak to the books and authors he loves and that accompany his life and his journey as a writer: a book that invites us to "go further", to read more, to reconsider our perspectives, and to always expand our imaginations and views on literature, identities, corpus.
Everything is a matter of color, but rather than that of skin, it is the colors of sensations, feelings, fears, thoughts, encounters, atmospheres, dreams, imaginations, and fantasies that drive Sami Tchak. These stories are like joyful paths traced in a geography that combines cities, characters, and authors: Beirut, Algiers, N'Djamena, Harlem, Dostoevsky, Julien Gracq, Mongo Beti, Ananda Devi.
It is also fascinating to have this book awarded the Prix "The Traveler on the earth", referring to a mythical short-stories collection by Julien Green in which a character, Daniel O'Donovan, the Traveler on Earth, is to split himself until he loses his primary identity, yet without succeeding in imposing onto others the one in which he projects himself…
---
Link to the book & rights information: here
Link to the author's profile: here
---