– Novel (thriller, 2022) –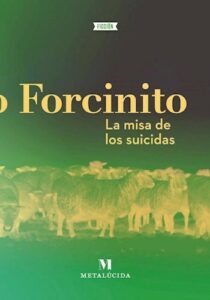 Summary
Boozer Gomez comes back to town twenty-six years after his disappearance. But Gomez comes back a different man, able to perform miracles. The shaken townspeople begin to follow him. Three friends who share a secret confront Gomez and their own past.
The author's premise in this novel is simple and chilling: evil exists. The devil, free of ancestry and in his many manifestations, sits at the window and converses with our most terrifying fantasies. And he carries them out. Diabolical justice: evil is supernatural, and it is human.
Forcinito's horror unfolds without euphemism, hesitation, or delay. He works with the substance of fear and draws us into his literature, drowning us in the quicksand of our deepest terrors with a style of writing that seduces and fascinates us from the very first sentence. It perturbs us.
Suicide mass is exemplary Latin American horror.
This is an essential novel for lovers of horror and the supernatural, and of all good literature.
In the shadow of God, in the night, beats the heart of the devil.
The novel is followed by a sequel: Suicide Mass 2 (La misa de los suicidas 2) (published in 2023).
But Boozer Gomez would come back to town, one February night, alone and wearing the same clothes as on that final day in the swamp twenty-six years ago. He walked down the main street in the opposite direction as the Carnival troupes. I didn't see him; Rufus told me. Despite how bad he looked, Gomez walked steadily down the middle of the street. The troupes, half maintaining their choreography, moved aside to keep their distance. I don't know if any of the old neighbors had recognized him yet. Rufus at least still hadn't. He noticed the commotion from the table where he sat with his wife and two children on the sidewalk outside the fried empanada place. He told me the man ignored the shouts of people trying to make themselves heard over the music. They were telling him to get out of the way. One of the troupes halted. The stranger was coming straight at them. He moved down the street, and the people who approached him stopped in their tracks the moment he looked at them. Rufus only had to put on his glasses to recognize him. Gomez, he said to himself.

"Yes, it's Boozer," the waiter confirmed. "Disappeared all those years ago."

May Craig (translation)

 
Information
Publisher: Metalúcida (Argentina), 2022
Language: Spanish
Rights: World rights to Metalúcida
Genre: Novel, thriller
Extent: 137 p.
English sample by May Craig
Rights inquiries: here
Biography
| | |
| --- | --- |
| Pablo Forcinito, born in 1978 in Buenos Aires, Argentina, is a poet turned novelist known for his horror stories. He won the national poetry contest Leopoldo Marechal in his youth. His acclaimed works include En tu mundo raro y por ti aprendí, Paraná, and La orilla de los encantados. In 2019, these novels were combined into the Trilogía de Paraná. Forcinito's horror novel La misa de los suicidas was released in 2022, with the sequel La misa de los suicidas 2 following in 2023. Currently, he is working on La misa de los suicidas 3. | @ Metalúcida |
---
News: La misa de los suicidas: An Argentine Horror Gem Selected in the Libros de Película Catalog & at Ventana Sur Cannes